Biviax strives to make ordering our products a positive, satisfying experience. Our goal is to provide the best possible delivery service across Europe at affordable costs. Getting your order to you promptly is our priority.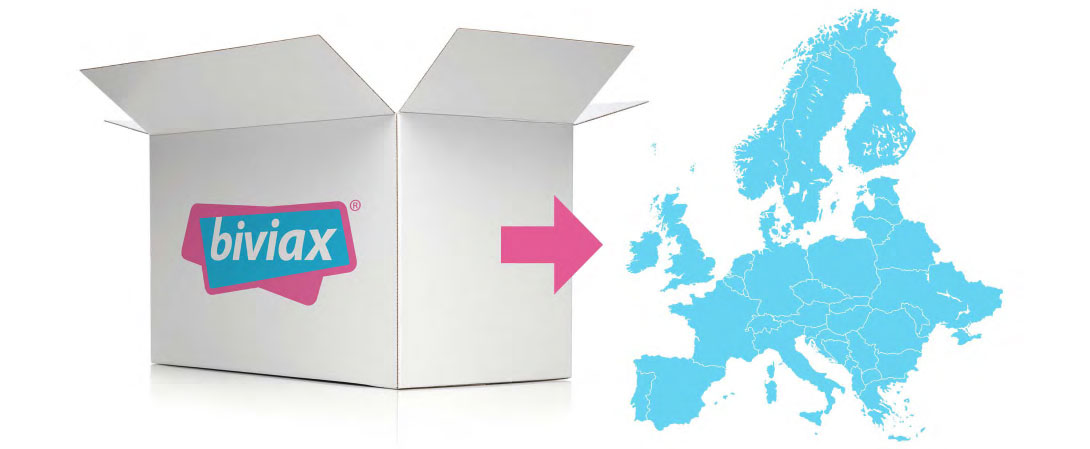 Free Shipping in Germany and to Austria
We deliver all orders that total over €50.00, free of charge within Germany and to Austria. In the case of lower merchandise value, the maximum shipping cost per order is €6.10.
Shipping usually takes up to 2 business days. Products are sent by post or courier, for example DHL/UPS. In the case of larger volumes and quantities, we use the services of a shipping company.
Standard Shipping Rate for other European Countries €17.00
In all other cases or for special situations, please send an email to or give us a call at +49 (231) 9767301.
Payment
We offer different payment methods and plan to increase the available options for you.
Payment methods
•
Prepayment in all countries (transfer made within one week, stating the order number)
•
SEPA direct debit in Germany, the mandate reference will be provided with the invoice, pre-notification will be reduced to seven days.
•
Cash on delivery only within Germany
•
Invoice only within Germany and Austria for regular customers
Important information for holders of a VAT identification number from other EU countries:
Please enter this identification number in the VAT ID field during the registration process. To check its validity, we will also need the exact and complete wording of your company name, as registered with the tax authorities, and your company's legal form. Please send this information, stating the order number, to us by email at . Once your details have been verified, you will receive the ordered goods at net prices.
Damaged goods
Although every care is taken, it is possible that goods may become damaged during transit. Should this situation arise, we will of course replace the damaged items free of charge.
However, please note the following procedure
A complaint of damages in transit must be made to the courier immediately on receipt of the goods. Then inform the biviax online shop of these damages in transit. If you would like to return the goods, please notify us in advance by email, fax or telephone.
Thank you for your understanding and cooperation.
Right of withdrawal
Right of revocation
You may revoke your declaration of intent in writing (eg letter, fax, e-mail) within two weeks without giving any reason or by returning the goods before the deadline. The period begins upon receipt of this instruction in text form, but not before receipt of the goods by the consignee (in the case of the recurring delivery of similar goods not before the receipt of the first partial delivery) and also not before fulfillment of our information requirements pursuant to § 312c para 2 BGB in conjunction with § 1, 2 and 4 BGB-InfoV as well as our obligations pursuant to § 312e para. 1 sentence 1 BGB in conjunction with § 3 BGB-InfoV. The timely dispatch of the revocation or of the goods is sufficient to ensure the revocation period. The revocation must be sent to:
biviax GmbH & Co. KG
Hagener Str. 428
D-44229 Dortmund
Fax: 0231 / 97 673 02
E-Mail:
Revocation Sequence
In the case of an effective revocation, the services received at both ends must be returned and any benefits (eg interest) taken. If you are unable to return the received performance in whole or in part or in a deteriorated condition, you may have to provide us with a declaratory sentence. This does not apply to the transfer of goods if the deterioration of the goods is exclusively due to their examination - as it would have been possible for you in the store business, for example. In addition, you can avoid the obligation to pay for a deterioration caused by the intended use of the goods, by not using the goods as your property and by omitting anything that might impair their value. Transportable items are to be returned at our risk. You have to bear the costs of the return if the delivered goods corresponds to the ordered and if the price of the returned item does not exceed an amount of 40 euros or if you at a higher price of the thing at the time of the revocation not yet the consideration or a contract Agreed payment. Otherwise, the return is free for you. Non-package items will be collected from you. Obligations to reimburse payments must be fulfilled within 30 days. The period begins for you with the sending of your declaration of revocation or the thing, for us with their receipt.
Security information & data privacy
To allow you to purchase with confidence in the biviax shop, we have taken every possible step to protect your data from access by third parties.
Because your data and trust demand maximum security. biviax shop saves the data you transmit to us solely for the purpose of your orders and their processing. We do not forward this data to third parties, other than to our partners in connection with order processing.
Important notes
To transmit your data, we use a secure server with SSL technology (Secure Socket Layer) and 128-bit encryption. This ensures that your data is transmitted to us securely and cannot be read by any unauthorised persons.
Should your bank details be misused by unauthorised persons, most banks will cover all the costs. If your bank requests a contribution of up to a maximum of 50 euros, the biviax shop will cover this payment for you. Please inform your bank immediately in the event of any misuse of your data and contact us at .
Data protection
We save and process customer data with due regard for the relevant provisions of the German Federal Data Protection Act (Bundesdatenschutzgesetz - BDSG) and the German Teleservices Data Protection Act (Teledienstdatenschutzgesetz - TDDSG). Your personal data will be collected only for specified, explicit and lawful purposes and will not be stored in connection with you personally for any longer than necessary.
You have the right, at any time and free of charge, to request details of your stored data, to correct, block or, if required, delete this data. Please contact by email or send your request to us by post or fax.
We will not forward your personal data, including your address and email address, to any third parties. This excludes our service partners who require the transmission of data in order to process orders. However, in these cases, the data transmitted will be restricted to the minimum required.
This shop uses cookies to store information on the content of your basket which can then be retrieved on subsequent visits. Each time you log on to our site or place an order, we will need your customer data. If you are already a customer, you can easily log in by entering your email address and personal password. Data stored in a cookie saves you from having to complete the forms. The cookies generated have an expiry period of 365 days. Your browser software also offers options for managing the acceptance of cookies from this website and allows you to block them if you wish.