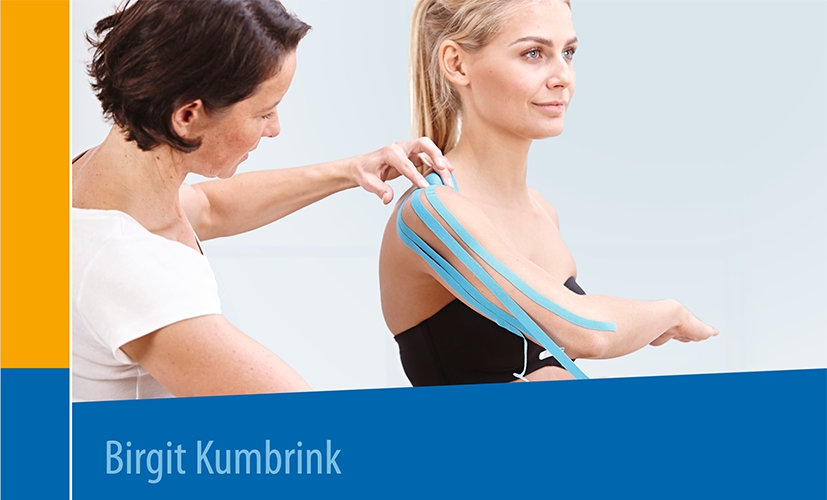 Jetzt neu:
Birgit Kumbrink hat ihr nächstes Fachbuch fertig gestellt. Das viel nachgefragte Buch K-Taping® in der Lymphologie ist in Kürze im Handel erhältlich. Sie können es auch direkt bei uns vorbestellen und erhalten es dann direkt nach der Veröffentlichung.
---
Now New:
Birgit Kumbrink has completed her next book. The highly demanded book K-Taping® in lymphology will soon be available in germany.
K-Taping® in der Lymphologie
Praxisbuch mit Fotoserien zur detaillierter Beschreibung und Ausführung von K-Taping®
Dieses Praxisbuch erklärt Physiotherapeuten, Ergotherapeuten, Logopäden und Lymphologen die Einsatzmöglichkeiten des K-Tapings bei lymphatischen Erkrankungen und Ödemen. Durch die erfolgreiche Therapiemethode können der Lymphabfluss angeregt und Schwellungen reduziert werden. Die erfahrene Autorin stellt neue Anlagetechniken vor, die speziell auf die Genese des Lymphödems abgestimmt sind. Auch auf Besonderheiten wie Fibrosen, Hämatome und Narben wird dabei eingegangen. Die 56 indikationsbezogenen Anlagen werden anhand von über 270 Abbildungen Schritt für Schritt erklärt. Lernen Sie, wie Sie mit Hilfe des K-Tapings das lymphatische System unterstützen, um lokalen Ödemen und komplexeren Störungen im Lymphsystem gezielt entgegenzuwirken.
---
K-Taping® in lymphology
Book with detailed photo series descritpion and execution of K-Taping®
This practice book explains physiotherapists, occupational therapists, speech therapists and Lymphologists the capabilities of K-Taping in lymphatic diseases and edema. The successful treatment method of lymphatic drainage can be excited and swelling are reduced. The experienced author presents new techniques that are tailored to the etiology of lymphedema. Also on features such as fibrosis, hematomas and scars are discussed. The 56 indication-based systems are explained step by step on the basis of more than 270 pictures. Learn how you support the lymphatic system by using K-Taping to specifically counteract local edema and complex faults in the lymphatic system.
---
Über den Autor
Birgit Kumbrink ist Gründerin und medizinische Leiterin der internationalen K-Taping® Academy mit Sitz in Dortmund (Deutschland) und Ablegern in Frankreich, Kanada, USA und Argentinien, ist seit vielen Jahren Anleiterin für K-Taping® und international eine der erfahrensten Anwenderinnen und Ausbilderinnen dieser Behandlungsmethode. Birgit Kumbrink hat zahlreiche Artikel über K-Taping® für medizinische Zeitschriften verfasst und ist in verschiedenen Sendungen im deutschen Radio und Fernsehen aufgetreten. Zudem arbeitet Sie mit verschiedenen Forschungsabteilungen zusammen, wie zum Beispiel dem Florida Hospital Innovation Lab in Orlando/USA. Sie hat die Therapie mit elastischem Tape von 1998 an zur heute international etablierten K-Taping®-Therapie entwickelt und in Deutschland, Europa sowie in vielen anderen Ländern etabliert. Die K-Taping® Therapie hat in den letzten 17 Jahren als sinnvolle und effektive Behandlung in der Physiotherapie, Ergotherapie, Neurologie, Pädiatrie, Gynäkologie bis hin zur Logopädie und in der Sportmedizin Anerkennung gefunden. Birgit Kumbrink ist verantwortlich für die Einbindung des K-Taping® in vielen Nachsorgekonzepten, z.B. nach Brustkrebsoperationen. Sie ist die treibende Kraft bei der Entwicklung von K-Taping®-Techniken und -Anwendungen und leitet nationale und internationale Studien in Kooperation mit Kliniken und Forschungsabteilungen.
---
About the author
Birgit Kumbrink is the founder and medical director of the international K-Taping® Academy located in Dortmund (Germany) and registered offices in France, Canada, USA and Argentina, and is over many years the Instructor for K-Taping® and internationally one of the most experienced users and trainers this treatment method. Birgit Kumbrink has written numerous articles on K-Taping® for medical journals and has appeared in various broadcasts on German radio and television. She also collaborates with various research departments, such as the Florida Hospital Innovation Lab in Orlando / USA. She has developed the therapy with elastic tape from 1998 to today and established internationally the K-Taping® therapy in Germany, Europe and many other countries. In the last 17 years the K-Taping® therapy established itself as a meaningful and effective treatment in physiotherapy, occupational therapy, neurology, pediatrics, gynecology through to speech therapy and sports medicine recognition. Birgit Kumbrink is responsible for the integration of K-Taping® in many aftercare concepts, for example, after breast cancer surgery. She is the driving force in the development of K-Taping® techniques and applications and conducts national and international studies in cooperation with hospitals and research departments.