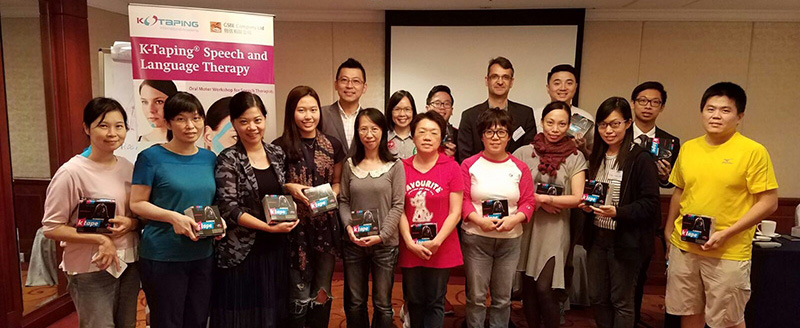 Der erste K-Taping
®

Logopädie Kurs in Hongkong!

Die K-Taping® Academy hat ihren ersten Kurs in Hongkong (China) durchgeführt. Schwerpunkt des Kurses lag im Fachbereich der Logopädie. In Deutschland bereits etabliert, war es der erste K-Taping® Kurs für Logopäden in China und wir erhielten ein außerordentlich gutes Feedback von den chinesischen Logopäden.
In den darauf folgenden Tagen war das K-Taping® Team zu Präsentationen in den führenden Krankenhäusern und Therapiezentren Hongkongs eingeladen. Aufgrund des großen Interesses konnten schon weitere K-Taping® Kurse für 2017 vereinbart werden. Wir freuen uns über den gelungenen Auftakt in Hongkong und mit unserem guten Partner sehen wir dem Aufbau der "K-Taping® Academy China" mit Freude entgegen.
Haben Sie auch Interesse oder wollen Sie näheres zu den Kursen der K-Taping® Academy erfahren?
Dann besuchen Sie uns unter


---
The first K-Taping
®

speech therapy course in Hong Kong

The K-Taping® Academy gave its first course in Hong Kong (China). The focus of the course was in the field of speech therapy. Established in Germany, it was the first K-Taping® course for speech therapists in China, and we received exceptionally good feedback from the Chinese speech therapists.
In the following days the K-Taping® team was invited for presentations at the leading hospitals and therapy centers in Hong Kong. Due to the great interest, further K-Taping® courses could be arranged for 2017. We are delighted about the successful start in Hong Kong and with our good partner we are looking forward to build up the "K-Taping® Academy China".
Are you interested or would you like to learn more about the K-Taping® Academy courses?
Visit us at